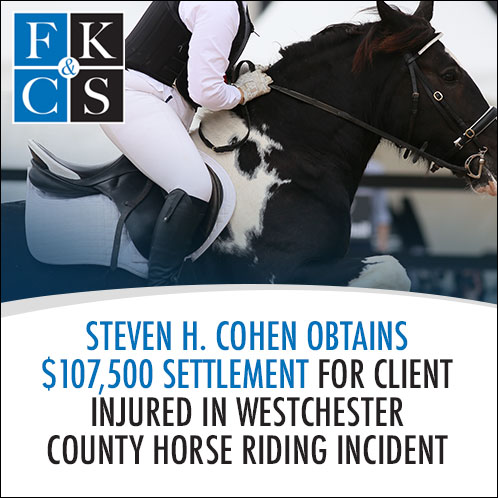 In May 2021, Feldman, Kleidman, Collins & Sappe LLP's (FKC&S) 59-year-old client from Fishkill, NY went to a horse farm in Westchester County with her friend to see about leasing an Icelandic horse. The owner of the farm saddled the prospective horse but failed to properly cinch the saddle. As the horse began to trot, the saddle slipped off and FKC&S's client fell from the horse, suffering fractures to her upper right arm. Thankfully, she healed and did not require surgery. 
Steven H. Cohen of FKC&S sued the horse farm for negligence, evidencing photos taken by its client's friend the day of the incident. There were two photos showing the unsecured cinch while FKC&S's client was riding the horse. The defendant alleged that FKC&S's client had signed a waiver which absolved them of all responsibility, and that she was herself at fault for failure to check the saddle before she started riding. They argued that she assumed the risks of being injured when she decided to get on the horse. 
After depositions, the defendant made a written motion to dismiss FKC&S's client's claims. The court denied the defense motion, noting that the risks of horse riding were made greater by the defendant's negligence in failing to properly cinch the saddle, that the waiver FKC&S's client signed did not explicitly waive the defendant's own negligence and that a jury could decide all issues of fault. A trial date was set for this summer and the case was settled for $107,500 prior to trial.
This week, extensive news coverage regarding the Titan submersible tragedy has led to public discussion of releases and release language. As this successful result for FKC&S's client demonstrates, even if you sign a release, you should not assume that you are not able to recover damages for someone else's negligence. This case demonstrates why it is critically important to consult with an attorney who is well versed in personal injury matters and the actual effectiveness, or lack thereof, of these types of releases.