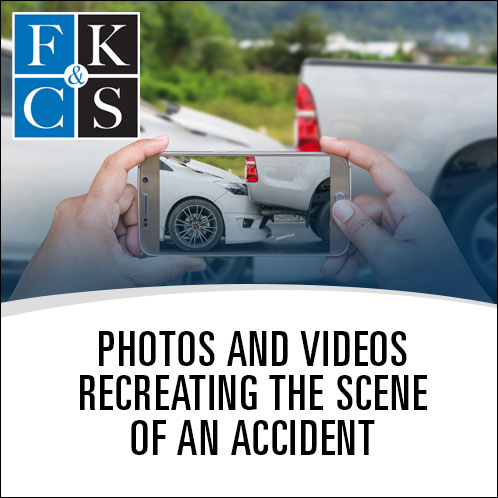 Police photos. Tire marks. Two or more vehicles sitting at the scene of a motor vehicle accident. One can easily visualize what the aftermath of a car crash might look like and the swirl of activity that ensues right after it.
All too often, inferences are made about what happened, but that's simply not enough when a crash leads to a life-altering injury or, sadly, even death. Knee jerk reactions, like assumptions that are not fact-based, have no place in a proper investigation, especially when there's pain and suffering involved. However, fast action on the part of injured parties, passengers or an adept attorney can help document information that will prove essential if there's a legal case to pursue.
The famous proverb, "A picture is worth a thousand words," comes to mind. In a personal injury case, that picture may be worth not only words, but adequate financial compensation for injuries, lost earnings or unfortunately loss of life. Tire or gouge marks, photos of brake lights, impact to the vehicles and their resting positions and other seemingly small details can prove if someone crossed over a lane, attempted to brake or didn't realize they were going to hit another vehicle. The sooner these images are captured, the more helpful.
If the injured party is able to use their own cellphone to take photos or videos, that's a good start. Sometimes an uninjured passenger or someone who stops to check on the victims of the crash can capture footage. Better yet, calling in an experienced legal team can allow them to document evidence of the scene to capture more accurate, clear images before it rains or snows and evidence is literally washed away.
Even if that initial at-the-scene-of-the-accident opportunity has passed, photos or videos can be taken at a junkyard if a car is totaled or sold for parts, once it has left the possession of a police department or insurance company. Timing is everything in this scenario as photos, videos and even key interviews can be submitted as evidence in a trial. For instance, an image may be blown up to point to a key deciding factor not previously discovered or evoke feeling among jurors in understanding the extent of the damage and, therefore, the severity of the injury suffered.
Capturing photos, videos and interviews – and knowing the nuances of how to best pursue each – can lead to a just outcome and appropriate resolution. During FKC&S's three-plus decades of work, we have made it our mission to document each case fully, to capture every bit of evidence, including visual, audio and interview-based findings, to ensure the best possible outcomes and settlements for our clients.
If you or a loved one has been injured in an accident, call us for a free consultation with one of our attorneys, (845) 897-5199.