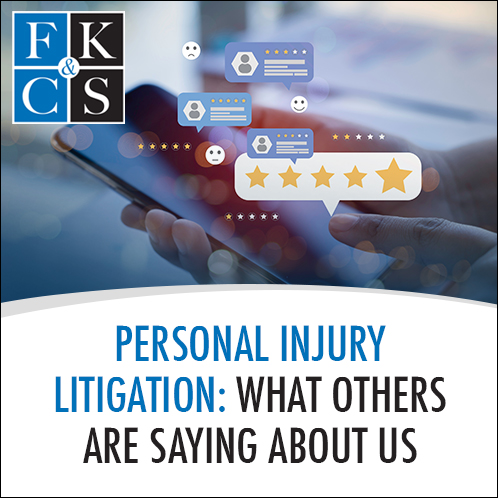 Experienced negotiators with a proven track record of getting clients what they deserve, the team at Feldman, Kleidman, Collins & Sappe LLP (FKC&S) has been successfully representing clients in personal injury cases for more than 37 years. Their thorough preparation and attention to even the smallest details demonstrates to adversaries that they are ready, willing and able to try cases. As a result, many of FKC&S's cases tend to settle before trial, garnering the best possible results for clients.
Recognized by Best Law Firms since its First Edition in 2010, FKC&S was recently designated as a Metropolitan Tier 1 firm in White Plains, NY for Personal Injury Litigation – Defendants, as well as a Metropolitan Tier 2 in White Plains, NY for Medical Malpractice Law – Defendants in the 2024 edition of Best Law Firms®.
Former clients have shared 84 reviews and counting on Google, giving FKC&S a five-star rating overall. Here are some of their recent comments:
Being involved in an accident can be life-altering. Whether someone is in a car, bicycle, pedestrian or motorcycle accident, or the victim of a slip and fall, dog bite or work-related accident, there's no need to walk that journey alone. At FKC&S you will always meet with an attorney and can feel confident knowing that they will be with you every step of the way. Call us at 845-897-5199 or click here to schedule your free consultation today.