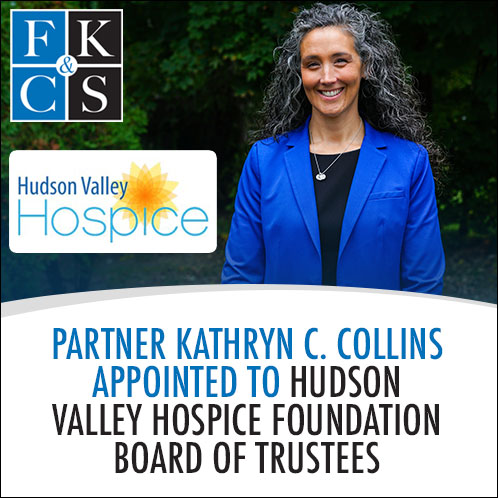 Feldman, Kleidman, Coffey & Sappe LLP (FKC&S) is excited to announce that Partner Kathryn C. Collins has been appointed to the Hudson Valley Hospice Foundation Board of Trustees. Kathryn will work with the organization to raise community awareness and funding in support of Hudson Valley Hospice's mission to enhance the quality of living and provide compassionate care, programs, services and support for men, women and children of Dutchess and Ulster Counties who are facing life limiting illnesses of themselves or of a loved one. 
"Kathryn is one of my favorite humans and we are thrilled to have her joining the board of trustees," said Lisa Wilson, executive director of the Hudson Valley Hospice Foundation. "She is dedicated to her family, her profession and the people she helps within her community. She does all of this with a quiet strength, commitment and grace that is a gift to all."
Since joining FKC&S in 2016, Kathryn has been present and active at annual Hudson Valley Hospice Foundation events. Her passionate support has helped raise crucial funds and awareness for the organization, bringing more comfort and assistance to families in the region during difficult times. FKC&S is proud to support the Hudson Valley Hospice Foundation as a Diamond Sponsor and Jeffrey M. Feldman, founding partner of the firm, is currently serving as 1st vice chairperson for the Hudson Valley Hospice Board of Directors and is a former chairperson of the Foundation.
Aside from Kathryn's new role with the board, she is active in her children's school district and a strong supporter of animal adoptions. Recently, her family adopted a puppy named Pongo from the Compassionate Animal Rescue of Dutchess County (CARE of DC). While adopting him, she saw firsthand the needs of rescue groups, including transportation, veterinary services, adoption application vetting, caring for the animals and getting the word out about those up for adoption. Kathryn nominated the organization to be a recipient of FKC&S's "35 Acts of Kindness" giving campaign to help them further their goal in helping those that do not have a voice, only four paws. 
To learn more about the Hudson Valley Hospice Foundation, visit www.hvhospice.org/foundation. To make a donation to, please click here or call 845-240-7609.