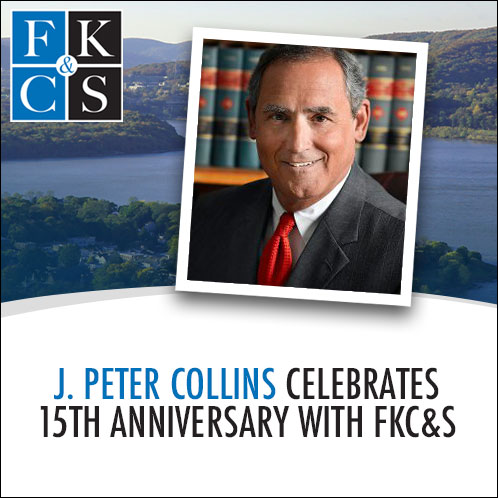 Earlier this year, seasoned medical malpractice and personal injury lawyer, J. Peter Collins, celebrated his 15th anniversary with Feldman, Kleidman, Coffey & Sappe LLP (FKC&S).
Throughout his career, Peter has successfully represented physicians, hospitals and other health care professionals in the full gamut of medical-legal areas, including obstetrical, gynecological, radiological, orthopedic, emergency room and many other medical disciplines. As a personal injury lawyer, he has successfully represented countless injured victims and has extensive experience working on a variety of cases, including pedestrian accidents, trips and falls, workplace accidents, among others. 
"Peter and I have been friends since the early '80s," said Jeffrey M. Feldman, founding partner of FKC&S. "He's a lawyer's lawyer and anyone who knows him or has dealt with him would say the same thing. He's meticulous about detail and has an incredible courtroom presence. I always say that working up a file is peeling back layers of an onion, and – as prepared as I think I am – when I discuss a case or an issue with Peter, he always has more to add. Even with my many years of experience, I always learn a ton from talking to him. He's bright, articulate and knowledgeable, and serves as a wonderful mentor to the young lawyers at our firm. We're honored to know and work with him."
After completing his undergraduate degree at Xavier University in Cincinnati, Ohio, Peter went on to earn his law degree from University of Cincinnati College of Law in 1969. A member of the New York State and Putnam County Bar Associations, Peter is admitted to practice in all New York State courts as well as the United States Eastern and Southern District Courts, Second Circuit Court of Appeals and the United States Supreme Court.
Prior to joining the FKC&S team, Peter served as an assistant district attorney and as an officer in the Judge Advocate General's Corps. He was a partner in a prestigious trial firm in White Plains, New York before establishing his own personal injury practice, which he closed in 2006. The next year, he joined the FKC&S family. 
"Peter has the type of disposition I always strived to emulate as an attorney and person," said Edward F. Kealy, attorney at FKC&S. "He always seems calm and composed but has a dry sarcasm that I love. He is incredibly devoted to his family and friends. He is a willing mentor and an excellent attorney who always makes you feel like he sees you as an equal, even though he has a lifetime of experience as a litigator."
Ed met Peter long before they became colleagues at FKC&S. When Ed was in still in secondary school, he was friends with Peter's youngest daughter and spent a lot of time at the Collins family's house. 
"I remember having many discussions with Peter when I was thinking about going to law school," said Ed. "He was always extremely encouraging and when I was beginning my career, he had me over many times for dinner at the house just to talk, see how I was doing and offer me advice. After graduating and working for a Wall Street bank doing regulatory compliance, I decided that I wanted to return to the Hudson Valley and pursue a career in litigation and reached out to him. He helped me with my C.V., wrote letters of recommendation on my behalf, and helped me land my first litigation job at another Hudson Valley firm."
In 2016 and 2017, Peter was selected as one of America's Most Honored Professionals by The American Registry for his continuous professional accomplishment. He was also recognized as one of the top 100 attorneys in upstate New York, an honor that identifies and highlights the accomplishments of the nation's most esteemed and skilled attorneys in all areas of practice. Peter has held the AV Attorney rating, the highest possible peer review rating offered by Martindale-Hubbell for both legal ability and ethical standard for the past 25 years. In 2015, Martindale-Hubbell designated Peter as a Top-Rated Lawyer in Medical Malpractice, and he has held the Preeminent AV rating assigned by his peers and by the Judiciary since that year. 
Peter served as the Town Justice in the Town of Kent for 17 years and resides in Putnam County with his wife. His daughter, Kathryn C. Collins, serves as partner at FKC&S, and shares a beautiful tribute to her father below:   
"Looking back, I am unable to recall a time that I did not know that I wanted to be a lawyer. After all, I had grown up with my own personal Atticus Finch for my father. Obviously, he was not a criminal defense lawyer from the South, but without fail my father played the role in my head during what seems like the 392 times that I devoured 'To Kill a Mockingbird'. It's interesting because I am not sure that I ever really appreciated why that was until I sat down to write this, but in hindsight it seems crystal clear – I suppose as most things do. Being lawyers was the least impressive similarity between my father and Atticus. Both are family men with a special relationship with their daughter. Both men's lives are guided by an incredible moral compass which leads them both on the path of doing what is right and not what is easy, regardless of what others may believe. Both men are incredibly hardworking and have a vested interest in their communities. It is the culmination of all of these things that has made my father the great man, father, husband, son, brother, lawyer, friend, grandfather and community member that he is and has been over his incredible 78 years of life.

I am so blessed to be a lawyer in the very same community that my father has spent the majority of career. Not a day goes by without me being reminded of what greatness is. It is his legacy, and it is everywhere I look. Whether it is a court reporter, a lawyer, an old client, a court officer who was assigned to a courtroom while he was on trial, a clerk, a judge or a secretary, when I am identified as Peter Collins' daughter, the response is always the same. 'Your father is a wonderful man and an incredible lawyer.' Always in that order. Usually, the conversation continues with some sort of comparison of how respectful and kind my father was during whatever experience it is the person shared with him and how in contrast with others who were there, he is remembered as the consummate gentleman. It never gets old hearing these things and it is a solid reminder that how you carry yourself and treat others is how you will be remembered. This is just one of the many important lessons my father has gifted me!"
Read more about Kathryn and Peter in this article from 2017: https://www.fkcs.law/news-center/poughkeepsie-journal-profiles-kathryn-collins-following-in-fathers-footsteps-as-a-lawyer-at-feldman-kleidman-coffey-sappe/.