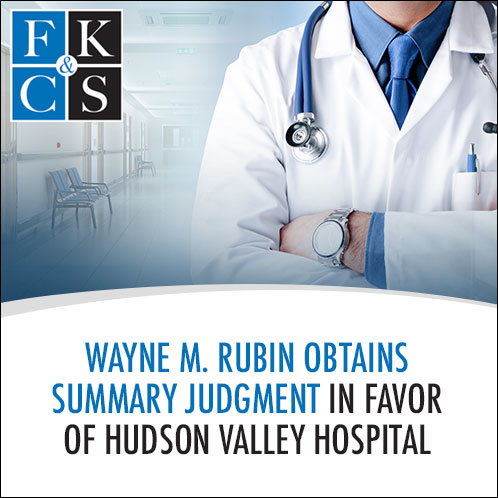 Feldman, Kleidman, Collins & Sappe LLP (FKC&S) recently obtained summary judgment on behalf of a Hudson Valley, NY hospital and one of its clinics, where the plaintiff was treated by a private physician whom she had found via Google search. The physician directed her to meet him at the clinic for treatment, where she was seen and treated by him once a week for approximately 10 weeks.
The plaintiff contended that the physician was negligent for failing to diagnose osteomyelitis, a bone infection. She also asserted that the hospital should be held liable for the physician's malpractice, because it led her to believe that in retaining the physician, he was its employee or agent.
However, thorough questioning by FKC&S attorney Wayne M. Rubin at the plaintiff's deposition established that there was no reasonable basis for the plaintiff to believe that the physician was an employee or agent of the hospital or its clinic. Based on that testimony, the court dismissed the case against FKC&S's client.