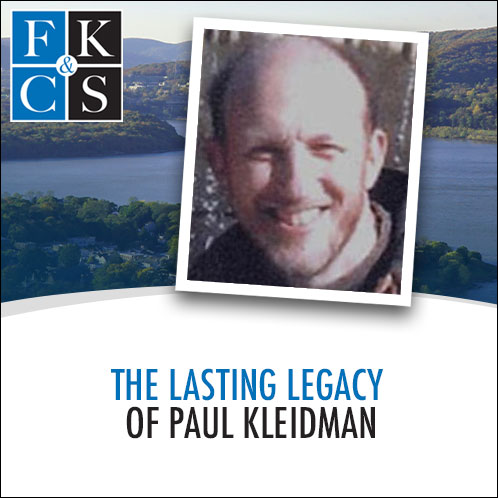 As our firm approaches its 36th anniversary at the end of the month, we're reflecting on our memories of a special person whose passion, talent and heart played a crucial role in establishing Feldman, Kleidman, Coffey & Sappe LLP (FKC&S) all those years ago – Paul S. Kleidman. 
A cum laude graduate of the University of Pennsylvania – The Wharton School, Paul earned his B.A. in economics in 1977 and then matriculated to New York Law School where he received a J.D Cum Laude in 1980. He became an attorney in 1981 and specialized in the representation of physicians and healthcare professionals in medical legal matters. Paul and his fellow founding partner, Jeffrey M. Feldman, established Feldman & Kleidman (now FKC&S) together in 1986.
Sadly, Paul died at the age of 50 in 2006 after a long battle with pancreatic cancer. He is survived by Karen, his wife of 25 years; his three extraordinary daughters, Jamie, Lindsey and Kelsey; as well as many loving family members and friends.
Paul made a lasting impact on his colleagues, clients and community and is missed dearly by all who knew and loved him. FKC&S Partners Jeffrey M. Feldman and Robert R. Sappe, along with Scheduling Coordinator Jeanne Marzullo and Office Manager Patricia Porcaro, share some of their favorite memories of him below. 
What is your favorite memory of Paul? 
"If you look at the picture of him on our website, Paul Kleidmanhad a particular twinkle in his eye and a particular smile that would light up a room and those are the two things I remember most. If you went to a party and there were 50 people in the room, at the end of the night he would have talked to everybody and he would know everybody that was there. He had a really engaging, outgoing and friendly personality. 
We were the best of friends and very close to each other. We created what exists now with several goals in mind. First, we wanted to create an environment where you'd see a client's case through from beginning to end. We also wanted to create an atmosphere where people wanted to come to work – a collaborative environment where everyone felt like they were on the same team. Thirdly, we wanted to be present for our families. We would pitch in for each other, so if I had something going on like a deposition, Paul would do it for me so I could go to my kid's little league game and vice versa. The fourth thing was to be more involved in the community from a charitable giving point of view. Together, we did it all and the firm still upholds these values today." – Jeffrey M. Feldman
"I believe it was shortly after I joined FKC&S. I was invited to go golfing with members of the firm. Apparently, it was decided that I should pair up with Paul and ride with him, since both of us were novice golfers at the time. As is often the case the case with novice golfers, we ended up in the rough after one of his shots sliced off into a stand of trees. We were close to the green, but several trees stood directly in the way. Paul looked at me and said, "I think I can hit it directly between those trees and get it to the green." I said "No, Paul. No, you can't. Just chip it out into the fairway and go around." But, as was typical of Paul, once he had his mind set on something, then no matter how far-fetched it was, he would convince himself that it was going to work. I gave one last warning of "Paul, don't do it" as he squared up over the ball, convinced he could finesse it through the narrowest of openings. He then took a swing and hit the ball squarely into the trunk of a tree, at which point it ricocheted back directly at my head and I was forced to dive for safety at the last second. As I picked myself up from the weeds, I saw Paul standing there with a huge grin on his face and he simply said, "Yeah, I guess you were right."
Another fond memory was Paul's knowledge of military acronyms. I'm not really sure how he knew all the stuff he knew, but he was strangely conversant with military hardware. To this day, someone cannot mention the A-10 Warthog without me thinking of Paul. The A-10 was his self-professed favorite aircraft." – Robert R. Sappe
"I remember him as someone who was cheerful and friendly always with a smile on his face. He was an excellent attorney who always knew what to say no matter what he was working on and was a perfectionist who often would change his mind as to how he wanted to say something. He would always hand you something typed/transcribed that would look like he drew a road map of words on it, and you could make those changes for him and then he would change it all over again, but always with a smile. He was a very hard worker, and his office/desk was always neat and tidy with never one piece of paper out of place.
Another favorite memory of him would be the good-natured way he accepted being the target of his partner Richard, who had a tradition of buying comical gifts for people at our holiday parties. One year, I believe Paul was the recipient of some type of fur vest and he wore it well with a smile on his face!" – Patricia Porcaro
"His door was always open, and he took the time to chat and explain a process so you completely understood. He was also my scheduling nightmare. Just when we thought he was certain and made up his mind – buzz, buzz: "Yeah, about that…" We spent more time discussing, shifting and moving and then possibly moving again." – Jeanne Marzullo
In what ways has Paul had a lasting impact on the firm?
"I would say his work ethic and the way he worked up a file or a case is part of the fiber of the firm. I refer to it as dotting the i's and crossing the t's. Paul was OCD – all good trial lawyers are – but he was different because he looked at things from a variety of angles. We would bounce ideas off him and that whole collaborative approach still exists at our firm today. That's the benefit of being in a group, there's no one way of getting from point A to B. Everyone has different style and personality." – Jeffrey M. Feldman
"Often times, when we are discussing how to handle a particularly difficult legal matter someone will mention how Paul might have handled a similar issue. Generally, we will all smile and then say "Yeah, no. We won't do that!" But his memory remains with us and continues to be part of the way we carry on with the firm since he left us. That is, with determination, professionalism and a bit of humility. And, of course, with a little humor." – Robert R. Sappe
FKC&S supports the Paul Kleidman Memorial Scholarship Fund. Can you tell me more about that? 
"Paul battled pancreatic cancer for more than six years. His kids were young when he died – his oldest, Jamie, had just graduated from college and the others were still in school. Over those years, they watched their father face the ravages of cancer, so the idea behind the scholarship fund was to provide financial support to graduating Arlington High School seniors whose lives had been affected by a close loved one with a significant illness. Every year we've given several scholarships to graduating seniors to help them with some of the costs of attending college, and we continue to donate in Paul's memory." – Jeffrey M. Feldman