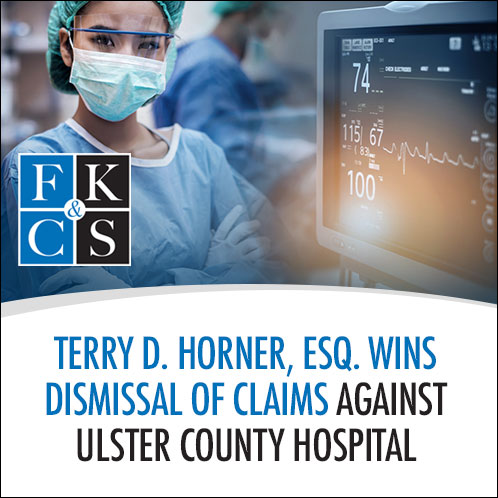 Terry D. Horner recently won a dismissal for an Ulster County hospital in a case involving a 58-year-old woman who was admitted through the emergency department (ED) for intravenous (IV) antibiotic therapy to treat pneumonia and a urinary tract infection. Due to a cardiac history, including an aortic valve replacement in 2012, the patient was on maintenance blood thinners, including Coumadin. The patient's INR levels, which indicate clotting time, were subtherapeutic when she presented to the ED, so she was stabilized with a combination of Lovenox and Coumadin during the hospitalization.
The patient received three subcutaneous Lovenox injections during the hospitalization and claimed that one of them caused a hematoma in her abdominal muscles, which sent her into hemorrhagic shock (severe blood loss) and required admission to the intensive care unit (ICU) and multiple blood transfusions.
Feldman, Kleidman, Coffey & Sappe LLP (FKC&S) filed a motion for summary judgment, arguing that the three injections were properly administered, and that they could not have caused the hematomas. In support of the motion, the hospital proffered three experts: (1) a nurse practitioner, who addressed the training of the nurses who gave the injections, the propriety of the protocols followed by the nurses and their proper administration of the injections; (2) a radiologist, who averred that the abdominal computed tomography (CT) scans taken after the hematomas developed did not demonstrate any infiltration of the abdominal muscles by the injections, and that the Lovenox needles were, in any event, too short to have penetrated beyond the patient's subcutaneous fat layer to reach the rectus abdominis musculature; and (3) an internist and critical care physician, who explained that intramuscular injection causing hematomas would have engendered pain long before the patient reported it, and because a single injection would not cause multiple hematomas or such voluminous bleeding. This expert averred that the hematomas were caused by a coughing fit or a spontaneous bleed, which, while rare, can sometimes be caused by Lovenox in a female patient over age 50, taking coagulants, with a history of steroid use.
In opposition, the patient offered the single opinion of a cardiologist/internist, who partially addressed only one of the hospital's three expert opinions — that of the critical care and internal medicine physician — and ignored the other two expert opinions. The patient's expert averred only that the opinion about a spontaneous bleed or a coughing fit was "wishful thinking," but did not address any of the other expert opinions offered by the hospital.
Because the patient's single expert opinion failed to rebut the hospital's multiple expert opinions, the court found the patient's expert "speculative and conclusory," and thus insufficient to oppose the hospital's motion, which the court then granted.