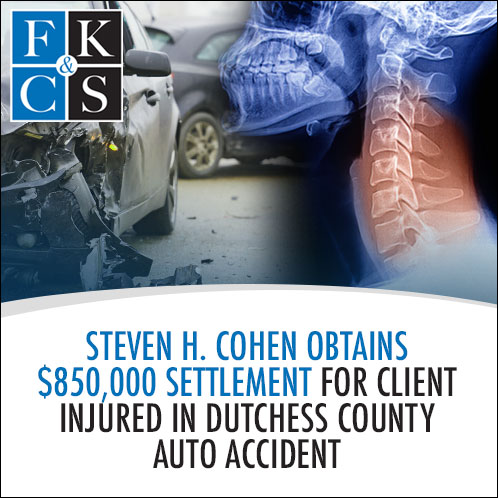 On May 21, 2017, Feldman, Kleidman, Coffey & Sappe LLP's (FKC&S) 30-year-old client, a resident of Poughkeepsie, NY, was driving on Hillside Lake Road in East Fishkill, NY. The defendant was driving on Clove Branch Road, intending to make a left onto Hillside Lake Road. He failed to stop at the stop sign and yield to traffic, entering Hillside Lake Road and crashing into FKC&S's client's car. As a result, her car was totaled and she sustained neck injuries requiring a discectomy and fusion, a wrist injury requiring surgery and thoracic outlet syndrome resulting in a rib resection surgery to alleviate symptoms. Thankfully she is now back at work full-time as a teacher in New York City, and Steven H. Cohen was able to obtain a $850,000 settlement for her just before trial.
To obtain the settlement before trial, Steve made a summary judgment motion after depositions, arguing to the court that the defendant was legally responsible for the crash. The court granted that motion, which started an interest clock ticking. This scenario causes insurance carriers to grow concerned because, if a verdict is taken, the defendant owes that amount plus interest from the date the motion was decided. 
Next, Steve ordered color medical illustrations from a professional medical illustrator to show step-by-step what happened during each surgery. These renderings were produced using the actual operative reports, diagnostic films and photos of the plaintiff.
Additionally, Steve attended multiple settlement conferences with the court and the judge required the insurance adjuster to be present so she could provide her insight as to the possible verdict value. 
The FKC&S team has a long history of preparing cases for trial and the insurance companies know that our team is not afraid to take verdicts. This reputation allows us to settle most cases before trial, achieving excellent legal results tailored to the needs our clients. If you or your loved one has been injured in an accident, please call us at 845-897-5199 today. At FKC&S you will always meet with an attorney and can feel confident knowing that they will be with you every step of the way.