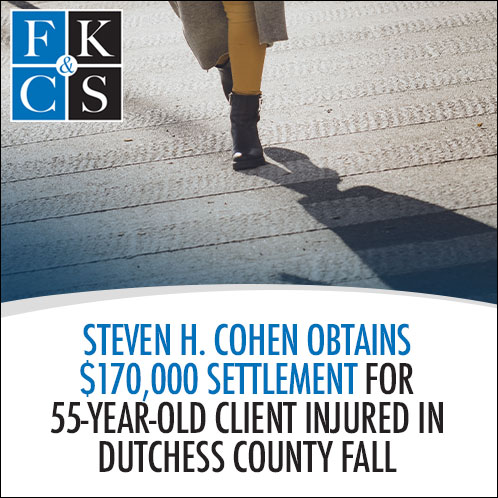 Feldman, Kleidman, Coffey & Sappe LLP's (FKC&S) client, a 55-year-old resident of Highland, NY, was injured while leaving a fast-food restaurant near Marist College in June 2019. It was a bright, sunny day and as she was leaving the restaurant, she was unable to see the drop-off from the sidewalk to the parking lot, due to the lack of warning striping and the shadow cast by the building. As a result, she tripped and fell. She suffered a fractured right ankle which required a tendon repair in 2020. 
The defense denied any prior incidents or complaints and blamed the plaintiff for not looking where she was walking. The case was placed into suit and, although the defense wanted to blame the plaintiff, our investigator was sent to take photos of the area around the same time of day as her fall. The images clearly showed that the building cast shadows over the front entrance, making it very hard to differentiate the sidewalk from the parking lot at the same time of day. Thanks in part to that evidence, Steven H. Cohen obtained a $170,000.00 settlement after the plaintiff gave deposition testimony. 
This case proves the importance of consulting with an attorney shortly after a fall, accident or similar event that results in an injury. They can provide expert guidance and arrange for photos and evidence to be documented in a timely fashion. Often, evidence obtained soon after the event makes a significant difference in being able to prove the negligence of a careless party.
In this video, FKC&S Founding Partner Jeffrey M. Feldman explains the importance of a quick investigation after an accident.
If you or a loved one has been injured in an accident, time is limited to file a claim. Our experienced attorneys at Feldman, Kleidman, Coffey & Sappe LLP can help guide you through the process. Please visit www.fkcs.law or call us for a free consultation, (845) 897-5199.