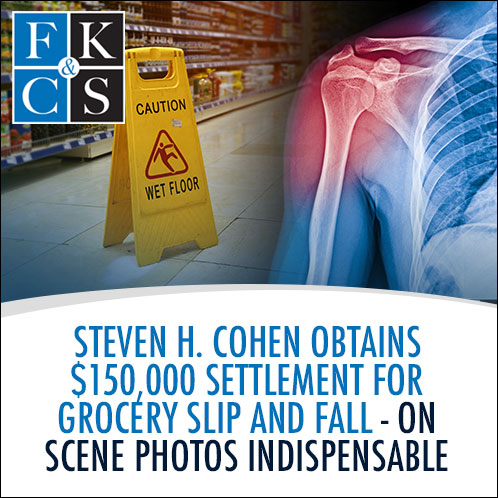 In September 2020, Feldman, Kleidman, Collins & Sappe LLP's (FKC&S) 54-year-old client from Hyde Park, NY was in a local chain grocery store. She was walking in the produce section when she encountered clear liquid on the floor. She slipped and fell, suffering a right shoulder tear and resulting in an arthroscopy in February 2022. 
The case was placed into suit. The defense argued that FKC&S's client had documented prior right shoulder injuries and could not prove how long the liquid had been on the floor, nor where it came from. The chain store's insurance company selected a doctor to examine FKC&S's client, and following that examination and depositions, the case settled for $150,000. 
When an accident occurs, our firm highly recommends taking – or have someone else take – as many photos from different angles as possible. The photos should document the scene in a timely manner after the accident occurs. In this case, the photos taken of the clear liquid on the floor were key to Steven H. Cohen being able to recover a meaningful settlement for FKC&S's injured client. If you or a loved one are injured in a slip and fall or trip and fall, call FKC&S for a free consultation at 845-897-5199.