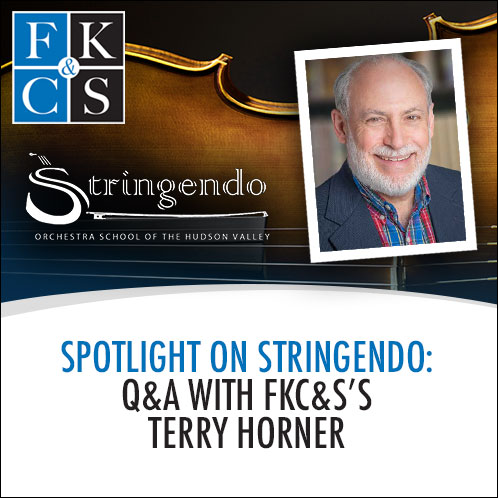 Giving back to the community has been an integral part of Feldman, Kleidman, Collins & Sappe LLP's (FKC&S) values since its founding 37 years ago. The FKC&S team regularly dedicates their time and support to a variety of noteworthy causes in the Hudson Valley and beyond. Today, we're shining a spotlight on Stringendo, Inc. – a non-profit community music school located in Dutchess County. FKC&S's Terry Horner currently serves as president of the organization's Board of Directors.
Founded in 2001 by Jon Handman and Emily Schaad, Stringendo offers youth orchestras, traditional fiddling classes, private lessons and a summer music camp. More than 200 students between first and twelfth grades participate in their programming, and financial aid and low tuition help make it accessible to every student interested in developing their interest and love for music.
Check out our Q&A with Terry below and be sure to check out Stringendo's website to learn more or donate: https://stringendomusic.org/. 
When did you develop a love for music and performing arts? 
I was exposed to classical music at home when I was small, and it became my first music of choice in a musical family. My mother sang and played piano, and my four older siblings and I were all musical, each playing at least one instrument. I sang in church, school and college choirs, and played the French horn through junior high school and again briefly in college. As an adult, I sang in a community choir for more than 25 years. Along the way, I added jazz to the "genres of choice."
I have always enjoyed attending concerts, operas, ballets, plays and musicals. 
When our daughter joined the Stringendo fiddle program a few years after she started in orchestra, that opened my ears to traditional music genres I had never appreciated before, like bluegrass, Cajun, Cape Breton, klezmer, Quebecois, Scottish, Swedish and other styles.
How did you get involved with Stringendo?
My wife and I learned of Stringendo when our daughter – soon to be 21 – was playing violin in third grade, and her school strings teacher recommended Stringendo. During her second year in orchestra, I was asked to join the board, where I already knew a couple of people from other facets of life. I have been on the board since. I was secretary for two or three years, vice president for a couple of years and became president in late 2021 when the then-president and I switched positions. 
What do your current responsibilities as board president include?
The most obvious responsibility is setting the agenda for and running board meetings, generally monthly except July and August. Like many not-for-profits, we were in survival mode through COVID. As we continue to emerge and rebuild, I am working on regenerating energy, reconstituting dormant committees and recruiting additional board members.
As a board with fiduciary responsibility for the fiscal health of the organization, we also assure that programming implementing the three artistic directors' visions and ideas is financially sound and consistent with our mission. 
What is the most rewarding part of serving on the board?
Working with interesting people of varied backgrounds who all believe in the mission of the organization. I have served on other NFP boards, and the Stringendo board has been by far the most rewarding and least contentious.
What would you like to highlight about Stringendo? 
PK Strings is an initiative to enhance the string-playing experience for students in the Poughkeepsie City Schools, which has a large high-needs population. Through earmarked private donations, we provide after-school group lessons to interested students, to help prepare them to join Stringendo if they wish to. The PK Strings initiative provides a year-end public concert and, if a student joins Stringendo, it covers their orchestra tuition and provides transportation to the weekly rehearsals, plus snack money.
How can the community best support this organization?
Money, of course. While the PK Strings initiative is currently being privately funded, that will likely not continue indefinitely. We also provide tuition assistance to other students who demonstrate need, even with our efforts to keep tuition low as compared to other extra activities young people can choose from.
The community can also spread the word about Stringendo to family, friends and acquaintances with school-age string players from beginner to high school. A good introduction to Stringendo is our popular Summer Strings day camp, being held at Poughkeepsie Day School in July.
Additionally, people should make sure their school boards continue to support music programs in general (and strings in particular, in Arlington, Hyde Park, Poughkeepsie, Spackenkill and Wappingers – the five Dutchess school districts that have string programs).
Finally, our first annual fundraising Fiddler's Bridge Run – featuring a half marathon, 5K and kids' walk, with live string serenade stations along the route – will be held on Saturday, May 13. 
We would be happy for more sponsorships and more participants.