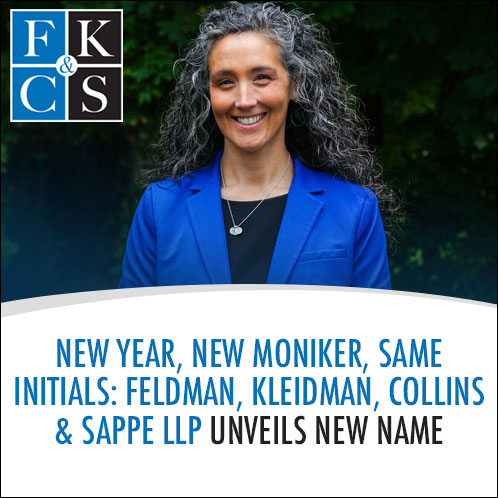 Partner Kathryn C. Collins highlighted in Hudson Valley law firm's 2023 refresh
DUTCHESS COUNTY, NY (January 11, 2023) – Prominent Hudson Valley, NY law firm, Feldman, Kleidman, Collins & Sappe LLP (FKC&S) revealed its new name this month, reflecting the leadership of Partner Kathryn C. Collins and underscoring her many contributions. Formerly known as Feldman, Kleidman, Coffey & Sappe LLP, the Fishkill, NY based law firm will retain its abbreviated form, FKC&S, through this exciting transition. Founded by Jeffrey M. Feldman and Paul S. Kleidman, the firm's award-winning team of attorneys have successfully tried cases at all levels of state and federal courts for more than 36 years. Specializing in personal injury law and professional liability defense, FKC&S is the only litigation firm between Albany and Westchester to be designated as a "Best Law Firm" by U.S. News & World Report since its First Edition in 2010.
"I am speechless, which truly never happens," said Collins, who comes from a long line of lawyers. "To have my partners surprise me with this incredible honor, I am just overwhelmed with gratitude that they want to include me in the name of the firm that they have created and grown."
Born and raised in the Hudson Valley, Collins joined FKC&S in 2015 and became the first woman named as a partner at the firm in 2019. Previously, she spent years as a partner at two well-respected law firms in New York City. Seasoned in the areas of medical malpractice litigation, professional liability litigation and general liability litigation, Collins has provided counsel for physicians, dentists, podiatrists, mental health providers, hospitals, nursing homes and fellow attorneys throughout her career. Earlier this year, she received an AV Preeminent® Peer Rated Attorney designation through Martindale-Hubbell, the most reliable and sought-after peer rating standard in the legal industry for more than 130 years.
"Kathryn's leadership has had an indelible impact on our team and the clients we serve," said Feldman. "She is a dynamic professional who has excelled in her career, always uplifting others along the way. We're thrilled to have her included in our refreshed name."
Collins graduated cum laude from the State University of New York at Purchase with a BA in English and received a Juris Doctorate from Brooklyn Law School in 2001. She is admitted to practice in the State of New York, the U.S. District Court, Southern, Northern and Eastern District of New York, the U.S. Court of Appeals, Second Circuit and the United States Supreme Court. A member of the New York State Bar Association, New York Medical Defense Bar Association and American Bar Association, Collins has lectured at medical and insurance conferences, as well as at metropolitan medical facilities, about medical malpractice and risk management topics. For several weeks this fall, she shared her time and expertise as an educator through The New York State Judicial Institute, guiding New York State jurists who had little to no experience in presiding over a civil jury trial.
"Aside from being uniquely talented as a lawyer, Kathryn has a great sense of humor, friendly down-to-earth personality and a strong dedication to family," said Robert R. Sappe, partner at FKC&S. "She is well respected by everyone, including friends, family, colleagues – even her adversaries – in the legal community, the local community and the judiciary."
Collins resides in Hopewell Junction, NY with her husband, Jim, their three children and their rescue dog, Pongo. Outside of work, she is vocal on women's issues, active in her school district and a strong supporter of animal adoptions. She serves on the Hudson Valley Hospice Foundation Board of Trustees and has been an active supporter of the organization since before joining the FKC&S team.
About Feldman, Kleidman, Collins & Sappe LLP
For 36 years and counting, Feldman, Kleidman, Collins & Sappe LLP has been dedicated to advocating for the legal rights of its clients. Based in Fishkill, NY, its attorneys have successfully tried cases at all levels of state and federal courts throughout the Hudson Valley and Capital District. The firm specializes in the practice of personal injury law and professional liability defense. For more information, visit fkcs.law, call (845) 897-5199 or connect with the firm on Facebook and LinkedIn.