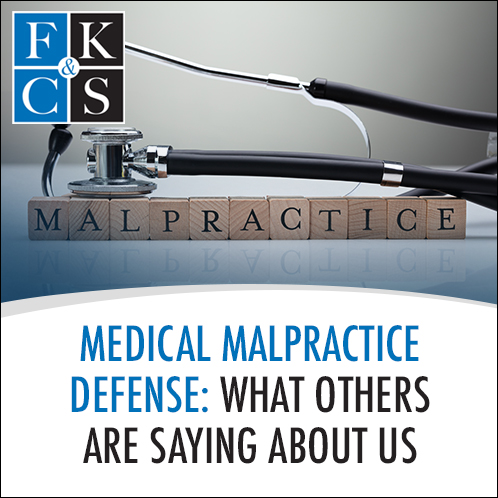 Earlier this month, Feldman, Kleidman, Collins & Sappe LLP (FKC&S) shared the exciting news of its designation as a Metropolitan Tier 1 firm in White Plains, NY for Personal Injury Litigation – Defendants, as well as a Metropolitan Tier 2 in White Plains, NY for Medical Malpractice Law – Defendants in the 2024 edition of Best Law Firms®. Recognized by Best Law Firms since its First Edition in 2010, doctors and hospitals in the Hudson Valley, NY have trusted FKC&S to represent them in highly technical medical malpractice cases for more than 37 years.
The team at FKC&S is proud to receive this ongoing recognition and greatly appreciates the sentiments shared by past clients on Best Law Firm's website. Here's what they're saying:
"We have been utilizing the services of Feldman, Kleidman, Collins & Sappe for more than two decades for all of our medical malpractice defense needs. We are one of New York state's largest medical groups with approximately 400 providers. The firm is simply exceptional in every way: expertise, responsiveness, understanding of underlying medical concepts, preparing physicians for their day in court, and making them feel as comfortable as possible in the process. The results we have achieved, with multiple verdicts for the defense, attest to the effectiveness of the firm's approach. I recommend them without reservation and give Feldman, Kleidman, Collins & Sappe my highest endorsement." –Hal Teitelbaum, CEO – Crystal Run HealthCare
"I have had the opportunity to work as a medical expert with Feldman, Kleidman, Collins & Sappe on a number of very complicated medical malpractice cases. The attorneys make extraordinary attempts to truly understand the medical science, and all of its complexities, when preparing a defense. They listen with great intent and ask very probing questions when working with their medical team."

 

–Alan Sanders
"Jeffrey Feldman of Feldman, Kleidman, Collins & Sappe conducted himself with utmost professionalism. His superlative competency, incredible fastidiousness, undying work ethic and 40 years of experience in med-malpractice litigation proved to be the best defense attorney a physician could want." –Physician – Hudson Valley Radiologists PC
"Feldman, Kleidman, Collins & Sappe are consummate professionals, highly responsive, knowledgeable, highly skilled, and have tremendous attention to detail." –Anonymous
"I have worked with Jeff Feldman of Feldman, Kleidman, Collins & Sappe for multiple years on varied medical malpractice cases. Jeff has been a valued partner in managing our legal risks, and I view him as our go-to legal counsel. Not only is his knowledge of medical malpractice law superb, but also, he is able to break down complex legal issues and provide a clear understanding. He is a complete professional, and I look forward to working with him for years to come." –Jon Fischer, CFO – Hudson Valley Radiologists PC
"I have been working with Jeff Feldman and his team at Feldman, Kleidman, Collins & Sappe in my role as Chief Quality Officer at Crystal Run Healthcare for the past three to four years. Jeff is not only knowledgeable, prepared and professional, but he is also caring and personable. Malpractice cases are never enjoyable, and they are fraught with anxiety for my physicians. Jeff and his team put everyone's mind at ease and walks them through the process in a kind, professional way. We are lucky to have Jeff on our side!" –Scott Hines, Chief Quality Officer – Crystal Run HealthCare
Evidenced by the testimonials above, FKC&S has a longstanding history of achieving successful results for clients. The firm's seasoned medical malpractice defense attorneys are skilled at understanding the medical complexities that often surround a case. They have represented hospitals and some of the Hudson Valley's largest multispecialty practice groups, as well as thousands of health care professionals throughout the tri-state area, including doctors, hospitals, large medical groups, dentists, podiatrists and nurses.
If you are seeking a professional liability defense lawyer, the FKC&S team will work with you to chart a strategy for the best possible resolution to your case. Call (845) 897-5199 to set up a free consultation today or contact us here to learn more.