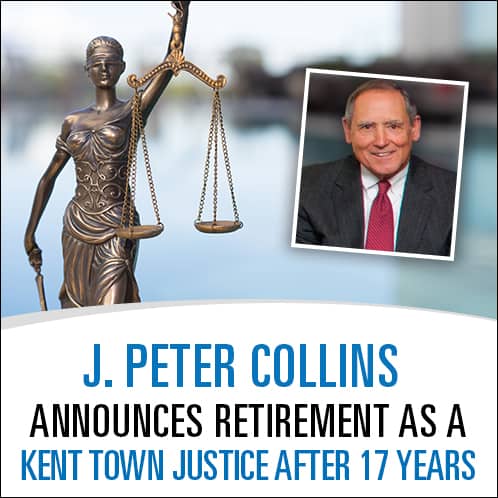 J. Peter Collins has announced his retirement from his position as a Kent Town Justice––a title he held for 17 years.
Since joining Feldman, Kleidman, Coffey & Sappe LLP in 2007, Collins has spent the last 10 years as a medical malpractice and personal injury lawyer for the firm while simultaneously serving as Town Justice in Kent. Collins' evident success in the field of law was not earned without hard work and determination, as his children highlighted in their speeches about their father at the Putnam County Bar Association's annual dinner held on October 12.
Kathryn Collins, Peter's daughter and a fellow trial lawyer at FKC&S, outlined her father's journey to the courtroom––and it wasn't an easy one.
After joining the ROTC program at Xavier University, Collins was unsure what he wanted to do going forward. After requesting deferment from his commission with the Army, he decided to apply to law schools. Collins was quickly greeted with unexpected resistance.
"He was rejected from every school and even received a letter from Fordham telling him that perhaps he should essentially rethink his future," Kathryn Collins said in her speech. "Instead of giving up, my father applied to the University of Cincinnati Law School and literally sat in the Dean's office every day until they agreed to accept him. He refused to give up and quit."
Collins' son, Patrick, also highlighted his father's innate fortitude and incredible work ethic, likening him to a superhero. Although Patrick's definition of what makes a superhero has changed from his childhood days to his present-day role as a husband and a father, he noted that he will always associate that definition with his father.
"While being fearless, bulletproof or impervious to pain might sound good on paper – it is having experienced those exact vulnerabilities in your own life that cultivates compassion and empathy," Pat Collins said of his current definition of a superhero. "It takes wisdom borne of experience (good and bad and all the in-between) tempered with a genuine respect of and faith in the judicial process – to apply the rule as it was meant to be applied – with a sense of spirit to effect what is right and just."
Kathryn Collins' speech painted her father not only as a legal juggernaut, but also as an incredible dad.
"Every time it snowed my father would be out there with his three kids, leading the parade up the driveway to race down it all together on our old rickety wooden toboggan," Kathryn said in her speech. "He is the type of person who will believe in you even when you are finding it hard to believe in yourself and as a result you will not want to disappoint him.  It is for all these reasons that he was the perfect fit to be a Judge in his local community, a community where he and my mother raised their children."
Collins' knack for always being more prepared than his adversary and "by-the book" work ethic will certainly be missed in Kent, but as his son Patrick mentioned in his speech, Collins will have more time to spend on the thing he is most passionate about––his family.
"We have a whole new generation of family in their formative years now and with what they are facing in their future, they're going to need all the wisdom and mentoring they can get," Patrick said. "And it'll be great to have you and mom, a pair of real life superheroes, around a bit more to help give them a fighting chance."