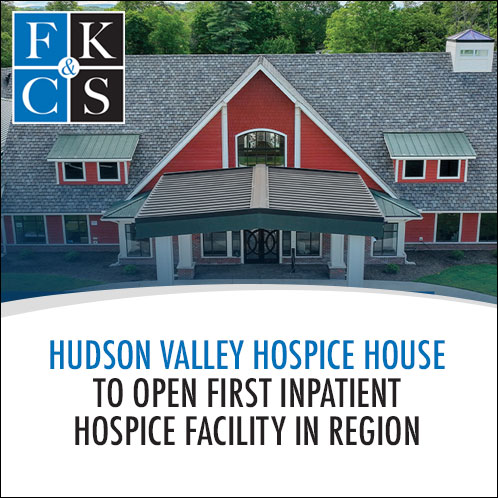 This week we're spotlighting an impactful non-profit that the team at Feldman, Kleidman, Collins & Sappe LLP (FKC&S) has long supported, Hudson Valley Hospice. The organization is close to opening the first freestanding hospice house to provide all levels of hospice care, general inpatient, respite and homecare in Dutchess and Ulster Counties.
According to Hudson Valley Hopsice, more than 640 patients are receiving its services at varying levels and that number continues to rise. With the opening of the Hudson Valley Hospice House this year, people will have the opportunity to stay close to their loved ones in a home-like setting on seven wooded acres on Route 9G in Hyde Park. Mid Hudson Construction Management broke ground on the 16,000 square foot single story facility in 2021 and once its doors are opened, Hudson Valley Hospice expects to serve more than 1,000 patients and their families there each year.
"We have learned that when home is not an option, our community needs a place where patients who have life-limiting illnesses can find comfort and solace and their loved ones can take a break from the inevitable caregiver fatigue and the challenges of caring for loved ones," says Hudson Valley Hospice. "Our goal is to make this facility the ideal environment where patients in their final days can live a comfortable and pain-free existence."
Hudson Valley Hospice House includes 14 private home-like patient suites with private baths, individual room temperature control and furniture for loved ones to stay overnight. All of the suites are equipped to handle general inpatient (hospital) patients and two suites can be converted for pediatric patient care. The facility also boasts spacious dining and gathering rooms where people can convene, including a sanctuary and tranquil meditative garden.
FKC&S Partner Kathryn C. Collins has served on Hudson Valley Hospice Foundation's Board of Trustees since 2021, and Founding Partner Jeffrey M. Feldman is currently serving as 1st vice chairperson for the Hudson Valley Hospice Board of Directors. He formerly served as chairperson of the Foundation.
"Seeing this dream come to fruition has been the highlight of my time as a volunteer with Hudson Valley Hospice," said Jeff. "After receiving in-home hospice care for the past two months, my mother passed away on August 27. She was cared for 24/7 by a terrific caregiver, but being at home was not without its unique challenges. When I spoke about the importance of the Hudson Valley Hospice House to donors at a gathering this summer, I couldn't help but think that if my mom had been in a facility like this, she would have had the chance to receive 24/7 skilled nursing care in a home-like setting. Thanks to Hudson Valley Hospice House, countless people like my mom will receive vital care and comfort while surrounded by loved ones in their own community, at a time when they need it most."
Jeff and Kat work with the organization to raise community awareness and funding in support of Hudson Valley Hospice's mission to enhance the quality of living and provide compassionate care, programs, services and support for men, women and children of Dutchess and Ulster Counties who are facing life limiting illnesses of themselves or of a loved one.
To learn more about the Hudson Valley Hospice Foundation and Hudson Valley Hospice House, visit www.hvhospice.org/foundation. To make a donation to, please click here or call 845-240-7609.