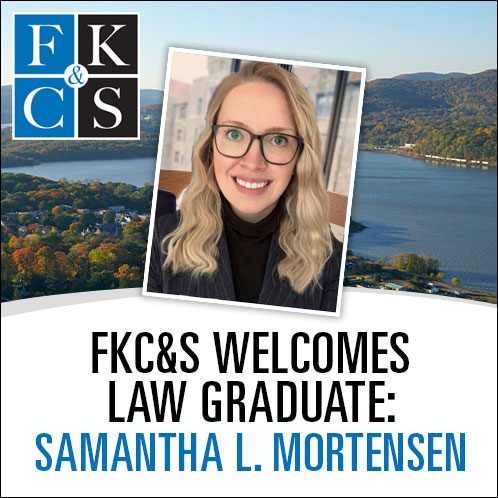 Feldman, Kleidman, Coffey & Sappe LLP (FKC&S), a Fishkill, NY based law firm specializing in personal injury law and professional liability defense, announced that Samantha L. Mortensen of Highland, NY has joined its award-winning legal team. FKC&S has been successfully trying cases at all levels of state and federal courts throughout the Hudson Valley and the Capital District for more than 35 years and has been recognized annually by U.S. News – Best Lawyers® "Best Law Firms" since the first edition in 2010. 
"Samantha has been a brilliant addition to our firm since joining us as an intern in January 2020," said Jeffrey M. Feldman, founding partner of FKC&S. "She has truly made an impact on our clients and team during this difficult year, and we are thrilled to have her join us as a law graduate."
In May 2020, Samantha graduated cum laude, earning her Juris Doctor degree from the Elisabeth Haub School of Law at Pace University in White Plains, NY. During her final semester, she joined the FKC&S team as a full-time intern and was later offered a permanent postgraduate position with the firm. Throughout her tenure as an intern and law graduate, Samantha worked on numerous cases, observed jury selections, depositions, arbitrations and one of Feldman's jury trials. When it was time to schedule interviews with prospective law firms after her Semester in Practice, she said that FKC&S was her top choice and that she had always been inspired by the firm's reputation and dedication to giving back to the community.
Samantha's wide range of student legal experiences include the practice areas of real estate, contracts, personal injury, criminal prosecution, family law and medical malpractice. In 2019, she served as a legal intern for the Major Crimes Bureau at the Dutchess County District Attorney's Office, where she performed research, drafted legal documents, assisted with trial and Grand Jury preparation, conducted meetings with victims and observed courtroom proceedings, trials and conferences between attorneys and judges. Samantha has also served as: judicial intern for Hon. Carol Goldstein at the Manhattan Family Court in New York, NY; research assistant for Professors Noa Ben-Asher and Bridget Crawford and legal assistant at Lauren Murray Law Offices in Mahwah, NJ, among other roles.
Born and raised in Poughkeepsie, NY, Samantha currently resides in Highland, NY with her fiancé and dog, Heidi. Outside of work, she enjoys exploring the Hudson Valley and stays active by hiking, skiing, camping, kayaking and going to the gym. As a student at the Elisabeth Haub School of Law at Pace University, Samantha was active in numerous groups on campus, including Pace Law Review where she was elected as an E-Board member and served as an Article Group editor, was chosen to represent Pace Law School in the NYSBA Inaugural Mediation Tournament, which took place in New York, NY, and was elected as a class representative for the Women's Association of Law Students. In addition, she is an active member of the American Bar Association, New York State Bar Association and Westchester Women's Bar Association.
Bonus Q&A with Samantha
Q: When did you know you wanted to practice law and what inspired you?
A: When I first started college, I was actually pursuing a degree in psychology when I decided to switch majors. It may sound cliché but helping others has always been one of my biggest passions, which is why I was initially drawn to psychology. However, in my second semester of undergrad, I took a course focused on juror psychology and that is where my passion for the law began. Although the two fields may seem separate and unrelated, they are united by their interest in human behavior. In a sense, psychology seeks to understand and explain human behavior while law seeks to regulate it. As I began to take more and more legal courses, I realized how much I enjoyed the "mystery-solving" nature of law, and I figured the best way for me to combine my interests was by becoming an attorney. I continued taking as many psychology courses as I could, even after switching majors, and I believe that having a background in psychology will help my career immensely. Whether it's trying to help a client understand their best option, figuring out the particular needs of a client or presenting a case to a jury, being able to communicate effectively and understand why people feel and act in certain ways is crucial to being able to zealously represent your clients. Looking back at my decision now, I couldn't be happier. Not only have I found a career that allows me to advocate, but I have found a career that allows me to continuously grow and learn new things.
Q: What areas of law are you most passionate about?
A: There isn't one area of law in particular that I am drawn to. I have a wide range of experience from real estate, contracts, personal injury, prosecution, family law and now medical malpractice. I'm more drawn to the fact that each area of law is designed to help people get through whatever situation they are presented with.
Q: What is your favorite part about working at FKC&S so far?
A: My favorite part about working at FKC&S is the amazing work environment and staff. Everyone is always willing to help no matter how busy they may be. I am also beyond thankful with how supportive Jeff, Bob and Kat have been throughout my entire Bar prep journey as the exam had been pushed back twice due to COVID-19, and the format of the exam changed entirely to accommodate the first-ever, remote, online version. I was constantly provided with the reassurance that I needed which helped put my mind at ease while studying for the most difficult exam of my life.
About Feldman, Kleidman Coffey & Sappe LLP 
For 35 years and counting, Feldman, Kleidman, Coffey & Sappe LLP has been dedicated to advocating for the legal rights of its clients. Based in Fishkill, NY, its attorneys have successfully tried cases at all levels of state and federal courts throughout the Hudson Valley and Capital District. The firm specializes in the practice of personal injury law and professional liability defense. For more information call (845) 897-5199.