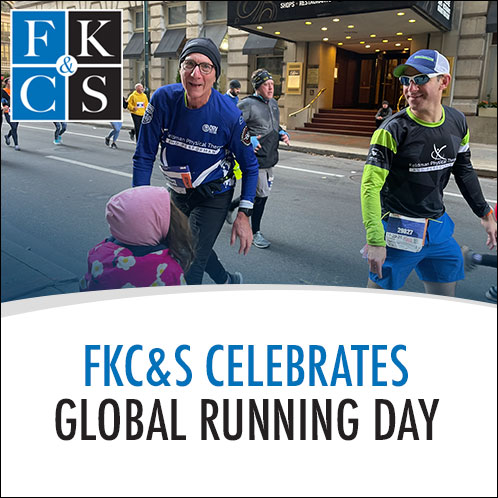 This past Wednesday marked Global Running Day, a worldwide celebration of running that encourages people of all ages and abilities to get moving. Physical activity has many benefits, including boosts to both physical and mental health. According to the Centers for Disease Control and Prevention (CDC), even one session of moderate-to-vigorous physical activity can reduce anxiety. Staying active also helps prevent chronic diseases, improve sleep and enhance overall health and wellness. 
Outside of the office or courtroom, you are likely to find some members of the Feldman, Kleidman, Coffey & Sappe LLP (FKC&S) team lacing up their running shoes and heading out for a run. One of the team's most avid runners is Founding Partner Jeffrey M. Feldman, who began running in 1978, shortly after he got married. Over the years, he has participated in two marathons and approximately six to eight half marathons, all done with one or more of his children. 
"I love that I'm able to run with them," said Jeff. "They run slower to be with me, but we have alone time. Even if we are not talking, we enjoy being together."
Jeff said that running has had many benefits in his life, including helping him kick a nasty habit he began in the early 1970s – smoking cigarettes. Shortly after he began hitting the pavement, he quit smoking for good and hasn't touched a cigarette since. The activity also gives him a respite from the busyness of his day-to-day life. He enjoys peace and quiet on his runs, and takes in the scenery of horse farms, houses and nature on his local, rural roads. 
Jeff's advice for beginners:
Start slow, honor your own pace and be patient.

 

Alternate between running and walking for certain intervals when you're first getting started. For example, run 100 yards, then walk a 100 yards and repeat. Gradually your stamina will increase, and you'll be able to run further.

 

Run every other day and do another form of physical activity on alternate days, plus factor in one rest day per week.

 

Find a mentor or someone to train with if you'd like. This is not necessary but can be helpful!
Go to Fleet Feet in Poughkeepsie to get proper running shoes for your foot. Some people pronate, others supinate (the way your foot hits the ground) and some have a neutral foot. If you don't have the correct shoe for your foot strike, you won't enjoy running.
"The first step is truly the hardest," said Jeff. "Once you do it, you'll enjoy the energy you have for the rest of the day."
Thinking about running? Here are some articles to help you get started: 
---
Jeff Feldman and family during the Philadelphia Half Marathon in November 2021.