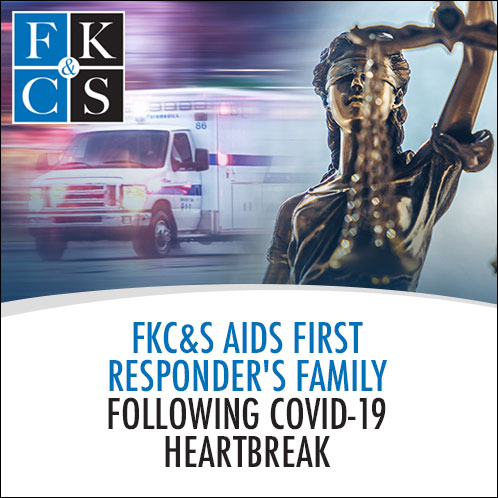 Fishkill, NY-based law firm, Feldman, Kleidman, Collins & Sappe LLP (FKC&S) recently teamed with Workers' Compensation Attorney Peter M. Cordovano, P.C. to obtain life insurance and workers compensation settlements for the family of a volunteer ambulance driver from Orange County, NY, who died after battling COVID-19 for more than one month in the spring of 2020. FKC&S, which is largely focused in the areas of medical malpractice and personal injury law, was referred the case by another law firm and agreed to provide counsel to the plaintiff's family free of charge. 
"After we learned of the hardships this family had gone through, our team committed to doing everything we could to help," said Jeffrey M. Feldman, founding partner of FKC&S. "The deceased fell ill after sacrificing his safety to help others during a time of great need, and we are grateful for heroes like him who lay it all on the line to serve our community."
The deceased contracted COVID-19 in March 2020 while volunteering for a local ambulance squad. Aside from those shifts, his wife says he stayed home and isolated from others, including her and their child. Following his death, his life insurance company denied his wife's claim, stating lack of evidence as to whether he contracted COVID-19 while volunteering on the ambulance or anywhere else. According to Feldman, this happens often in cases related to first responders, including police officers, firefighters, corrections officers, nurses and other health care providers.
After taking on the case, the team at FKC&S leveraged its expertise and connections in the medical field, gathering pertinent medical records and conducting interviews with those who rode in the ambulance with the deceased. They established a detailed timeline of his volunteer shifts and progression of symptoms, as well as his medical appointments, testing and hospitalization. 
"In the early days of the pandemic, little was understood about the disease and its treatment and testing was not as accurate as the testing later became," said Feldman. "From an evidentiary point of view, proving how he was exposed on the rig was difficult because each patient he transported could have had COVID-19 unknowingly, or medical personnel at the hospitals could have exposed him in passing. We had to think outside of the box and that's why Peter's [Cordovano] involvement and hard work was integral to achieving successful results for this family."
Before FKC&S filed a lawsuit against the life insurance company, Cordovano filed a workers' compensation claim. The deceased's wife testified at the subsequent hearing, indicating that the sole reason her husband left the house was to work on the ambulance. The workers' compensation insurance carrier cross examined her and could not prove that he was exposed to COVID-19 elsewhere. Ultimately, the New York State Workers' Compensation Board found that the deceased contracted COVID-19 due to his work as a volunteer first responder and awarded his widow the benefits to which she was entitled.
Applying their expert knowledge of the doctrine of collateral estoppel, FKC&S's attorneys understood that this workers' compensation decision could be binding in a lawsuit against the life insurance company. Collateral estoppel means that a finding by one court or administrative agency may, under certain circumstances, be binding on others who were not party to the initial hearing or proceeding. FKC&S filed the suit and – evidencing medical records, testimony and the ruling from the Workers' Compensation hearing – argued that the workers' compensation decision was, in fact, binding. In the end, the life insurance company paid the proceeds of the life insurance policy to the family of the deceased and Feldman delivered the check to them last month.
Both in and outside of the courtroom, social responsibility is of upmost importance to the FKC&S team and has been engrained in its values since its founding 37 years ago. FKC&S's team members are passionate about serving their community and support a variety of causes, serving on boards and dedicating time and financial support to various nonprofit organizations such as Family Services, Hudson Valley Hospice, Abilities First and more. In 2016, the Dutchess County Regional Chamber of Commerce awarded Feldman with the Headliner Award for Leadership in Business and Community, and he was honored by the Mid-Hudson Valley Chapter of the Association of Fundraising Professionals for Leadership in Corporate Philanthropy in 2019. 
About Feldman, Kleidman, Collins & Sappe LLP
For 37 years and counting, Feldman, Kleidman, Collins & Sappe LLP has been dedicated to advocating for the legal rights of its clients. Based in Fishkill, NY, its attorneys have successfully tried cases at all levels of state and federal courts throughout the Hudson Valley and Capital District. The firm specializes in the practice of personal injury law and professional liability defense. For more information, visit www.fkcs.law, call (845) 897-5199 or connect with the firm on Facebook and LinkedIn.