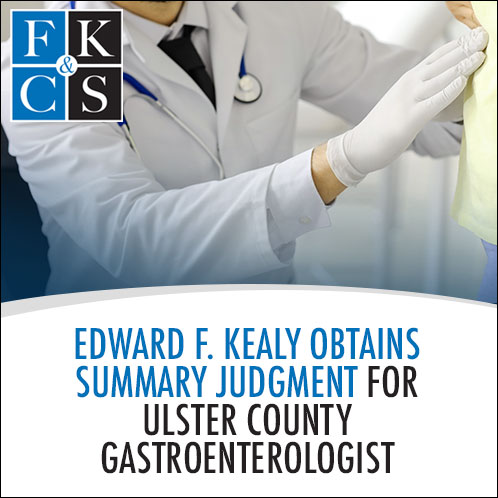 Edward F. Kealy recently obtained summary judgment for an Ulster County gastroenterologist, whom the plaintiff alleged delayed in diagnosing a gastro-pleural fistula (an unnatural communication between the stomach and pleural cavity) following gastric bypass surgery performed by another physician. 
The patient saw Feldman, Kleidman, Coffey & Sappe LLP's (FKC&S) client for one visit, four months after her bariatric surgery. At that time, she complained of upper abdominal discomfort – a complaint that predated her bariatric surgery for which she had previously been worked up extensively by other providers, including an upper endoscopy and CT of the abdomen, both of which were essentially normal. Based on the prior complaints and workup, FKC&S's client concluded that no further workup was required and that this pain was not attributable to a complication of her bariatric surgery. 
The plaintiff also complained of left anterior chest pain, which was a relatively new complaint. FKC&S's client performed a physical examination which revealed tenderness in the costochondral region, which he was able to reproduce. The remainder of his physical examination was unremarkable. The fact that he was able to reproduce this symptom was conclusive of the diagnosis of costochondritis (inflammation of the joint space at the end of the rib). Additionally, the remainder of the physical examination being negative and absent of findings with respect to abdominal and respiratory findings was supportive that none of her issues at that time were attributable to her bariatric surgery. The plaintiff never treated with FKC&S's client again.
Over the next four months, the patient developed issues which appeared initially to be chronic pneumonia. She was seen by numerous doctors and providers who ordered repeat imaging studies to examine her chest and abdomen, but the root cause of her chronic pneumonia was unclear. Eventually, four months after treating with FKC&S's client, it was determined that the patient had developed a gastro-pleural fistula, which was an extraordinarily rare and slow-developing complication of her bariatric surgery. The plaintiff claimed that our client failed to diagnose this extremely rare complication four months earlier.
FKC&S filed a motion for summary judgment seeking dismissal of the claims on behalf of its client, arguing that a gastro-pleural fistula was not present at the time he saw the patient four months earlier and that his thorough examination revealed that her complaints were not intra-abdominal and were not related to potential complications from her bariatric surgery. FKC&S's motion also detailed that, after seeing their client for a single visit, the patient was examined by numerous providers and underwent multiple chest CTs, as well as repeat studies, which were interpreted by numerous physicians/providers – none of which reflected the presence of a gastro-pleural fistula. It was not until four months later that a chest CT revealed the potential presence of this complication. 
In opposition, the plaintiff submitted the affidavits of two experts, a gastroenterologist and general surgeon, who argued in conclusory fashion that FKC&S's client should have known that the plaintiff's symptoms "might be a complication her gastric sleeve surgery" and should have contacted her bariatric surgeon advising of same. FKC&S argued that the plaintiff's experts failed to specify which tests were indicated by its client's examination, nor did they claim that its client's diagnosis of costochondritis was unfounded. The experts also did not refute FKC&S's argument that the gastro-pleural fistula was not present at the time its client saw the patient.
The court agreed with the arguments of FKC&S and found the plaintiff's opposition to be speculative. The court also noted "Indeed, three subsequent radiology assessments failed to identify a fistula for over four months subsequent to" the patient's sole visit with FKC&S's client. Accordingly, the court granted FKC&S's motion for summary judgment and dismissed all claims against its client.