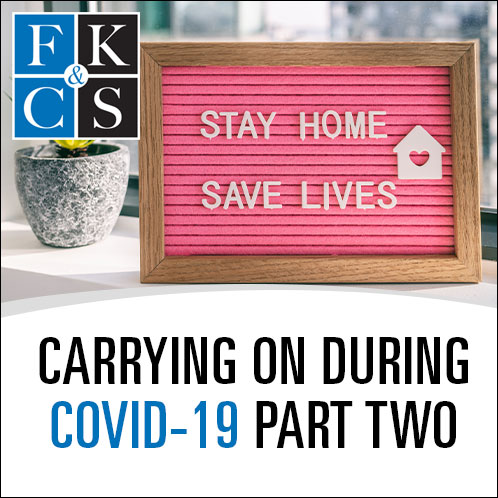 Last week we shared Q&A responses from the employees of our firm, Feldman, Kleidman, Coffey & Sappe, LLP (FKC&S), to shed some light on how our team is coping during COVID-19. This week, we wanted to share some bonus content, including favorite quotes, helpful links, book recommendations, advice and dream dinner party guests to help keep you and your family entertained during this difficult time.
If you would like to share your recommendations or favorite ways to keep busy, send us a message or leave a comment on our Facebook post. We would love to hear what you have been up to while social distancing. Stay safe!
Recommend a book:
The Harry Potter series/anything by Sophie Kinsella/"A Tree Grows in Brooklyn" – Liz, Paralegal
"A Walk in the Woods" – we live on the Appalachian trail and this book is filled with knowledge and TONS of humor which is perfect for right now. – Kathryn, Partner
"The Shack" by William Paul Young – Stephanie, Billing Coordinator
"Alice in Wonderland" – Bain, Attorney
Poughkeepsie Public Library online is an amazing resource for all. – Jeanne, Scheduling Coordinator
Anything by Stephen King – Steve, Of Counsel
Share a quote you love:
"Someday we will look back on this moment and it will forever remind us to never take the little things for granted. It will remind us to hug with all our hearts, to pause to appreciate holding someone's hand, and to live in the moments that we are surrounded by others." – Laura Jones – Samantha, Law Clerk
"I can't go back to yesterday, because I was a different person then." – Bain, Attorney
"Who of you by being anxious can add one cubit to his life span." – Nancy, Paralegal
"Don't beat yourself up for not knowing the answers. You don't always have to know who you are. You don't have to have the big picture, or know where you're heading. Sometimes, it's enough just to know what you're going to do next." – Sophie Kinsella (in her book "The Undomestic Goddess") – Liz, Paralegal
"But I know, somehow, that only when it is dark enough can you see the stars." – Martin Luther King, Jr. – Kathryn, Partner
"This too shall pass." – Steve, Of Counsel
From my Dad to my Mom: "Nona, your other left." (You'd have to be there to understand, as with many of his comments.) – Bill, Attorney
"To love another person is to see the face of God." ― Victor Hugo, Les Misérables – Stephanie, Billing Coordinator
"Be brave enough to suck at something new." – Jeanne, Scheduling Coordinator
Recommend a helpful link:
Take a virtual tour of one of your favorite vacation spots. A couple of good ones are www.visitmaine.com, with a link on tips to stay inspired, and www.thebermudian.com, which has a great virtual tourist visit of the island. – Patricia, Office Manager
Tone It Up – Liz, Paralegal
Chris Hemsworth's Centr program seems interesting. It provides plans for fitness, wellness and nutrition, all of which I want to improve upon. He is offering a free trial for six weeks. – Bill, Attorney
There are lots of good work out routines on YouTube. – Bain, Attorney
For Kids:
Author Mo Willems does a great program for the kids daily from his studio and gets the kids to be creative with drawings of his adorable book characters and much more. The kids love it.  – Nancy, Paralegal
Time magazine created a free Time for kids website that has a digital library of the current issues and past issues for kids (they break it down by grades such as K-1, etc.). – Kathryn, Partner
There's a Facebook group called "Kids at Home" that's super helpful with TONS of links with things for the kids to do…crafts, virtual museums, YouTube channels, etc. – Stephanie, Billing Coordinator
For those who want to get creative, I recommend: https://stepbysteppainting.net/. It's filled with easy step-by-step painting tutorials for adults and kids! – Samantha, Law Clerk
If you could have dinner with any five famous people, dead or alive, who would you pick?
I'd like to have dinner with my father in law Hy (passed away in 2005), my grandfather Frank (passed in 1984), my dad (91 years old), Warren Buffet and Mickey Mantle. Hy because he was so smart and knowledgeable about so many things, my grandfather because I miss him so much and think about him every day, my dad because we never seem to get to spend enough time together, especially the last few years, Buffet because he is Buffet and Mickey because he was my childhood idol. – Jeff, Founding Partner
I think an interesting dinner guest list would include Jesus, John Fogerty, Ronald Regan, Pete Rose and Warren Buffett. – Bill, Attorney
My daughter and I are missing our figure skating lessons, so when I read this question I immediately thought of Adam Rippon. That train of thought led to Gracie Gold, Jason Brown and Mariah Bell. And, right now, after watching all these press conferences every day, I would invite Governor Cuomo. – Liz, Paralegal
Benjamin Franklin, George Washington, Tom Landry, Chris Wallace and Dave Chappelle – Bain, Attorney
Gene Kelly, Marilyn Monroe, Whitney Houston, Billy Graham and John Krasinski – Stephanie, Billing Coordinator
Roger Maris, Stephen Hawking, Fyodor Dostoyevsky, Martin Luther King, Jr. and Stephen Colbert – Wayne, Attorney
Luke Combs, Pete Alonso, Carrie Underwood, David Wright and Luke Bryan – Katherine, Legal Assistant
Famous for me isn't important, but leaving an impression and help mold me to be the person I am: Grandma Mary, my sister, my parents and Uncle Dom. – Jeanne, Scheduling Coordinator
What is the best advice you've ever received?
"Insanity is doing the same thing over and over and expecting a different result." It was something an old boss said to my mother, and she repeated to me as a child. If you aren't willing to change and adjust in adversity, trials and challenges, it will be harder to be successful. – Stephanie, Billing Coordinator
"Never waste your time trying to explain who you are to people who are committed to misunderstanding you." I do not recall who said this to me, but have since been living my truth everyday – unfiltered and loved by those that accept me for ME! – Jeanne, Scheduling Coordinator
Always treat others as you would want to be treated. – Bain, Attorney
Best advice – from my dad – only cowards never try anything new and never make mistakes. Only "fools" make the same mistake twice. And from my grandfather – you need to play as hard as you work! – Jeff, Founding Partner
It's just as easy to be on time as it is to be late. – Bill, Attorney