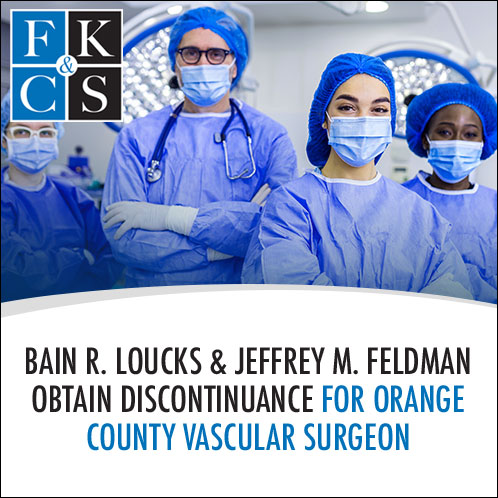 This month, Bain R. Loucks and Jeffrey M. Feldman obtained a discontinuance immediately before trial for an Orange County, NY vascular surgeon. The plaintiff was a diabetic with high blood pressure, elevated cholesterol and a cigarette smoker, who – not surprisingly – had significant vascular disease. She had undergone a vascular bypass procedure to provide blood flow to her left foot, a procedure that was performed by another physician several years before she consulted with Feldman, Kleidman, Coffey & Sappe LLP's (FKC&S) client. When that bypass procedure failed, the operating surgeon advised the plaintiff that amputation was her only option, which led to her consultation with FKC&S's client's practice. 
Ultimately, FKC&S's client performed an endovascular procedure to increase blood flow to the left leg, which initially improved blood flow, but not for very long. The next procedure performed by FKC&S's client was another bypass, using veins from the plaintiff's arm and calf which were spliced together to create the bypass. Initially, the bypass was successful, but wound healing issues occurred and ultimately the bypass occluded (got clogged), requiring a further bypass. Because there were no other native vessels to use for a third bypass, our client used veins from a cadaver (CryoVein). Several other procedures were subsequently required, but the patient plaintiff has been spared an amputation.
The plaintiff claimed that FKC&S's client should have initially used the cadaver vein rather than the spliced vein and that, had he done so, she would have been spared the additional procedures. 
During her deposition, the plaintiff indicated that she had been convicted of several felonies and had spent time in state prison during the 1980s. As a result, FKC&S performed a thorough investigation and learned that she had several other convictions, which she didn't disclose at her deposition, the last of which was in 2014 (which was immediately before she began consulting with FKC&S's client). 
Because the plaintiff did not disclose this last felony conviction, while Jeff Feldman was preparing for trial, Bain Loucks prepared a motion to be heard immediately before trial (motion in limine) to be sure that this would be a proper and appropriate area of cross examination. The Court heard oral arguments from both Bain and Jeff, as well as the plaintiff's attorney, on the day immediately before jury selection was to begin. The plaintiff was present in the courtroom during the oral argument. The Court held that the 2014 felony conviction (possession of heroin with the intent to sell), was an omission by the plaintiff at her deposition, that it was an appropriate area of cross examination since it could be construed as providing false testimony under oath and that the 1980s convictions were too far removed in time to be subject of cross examination. 
Shortly after the Court's ruling, the plaintiff agreed to discontinue her claim in light of the ruling. 
Asking a plaintiff if they have been convicted of a crime is standard practice in a deposition. In this case, it was the subsequent, thorough investigation and motion papers prepared by Bain Loucks that carried the day.